ToxicsWatch Alliance (TWA)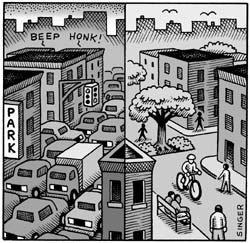 Union Ministry of Petroleum & Natural Gas
Subject-Wednesday as public transport day, a praiseworthy step
This is to express our appreciation for announcing that you, the officials of your ministry and the Public Sector Undertakings (PSUs) under the ministry will travel by public transport once a week starting Oct 9, 2013 in furtherance of one of the five missions of the Ministry is "to promote fuel conservation, clean & green fuels and development of alternative sources of energy". It is indeed a praiseworthy step.
We submit that infrastructure and space for walking and cycling should get even more priority than public transport.
We demand that besides Wednesday every Sunday should be declared a Free Public Transport Day as first step towards making public transport totally free.

The public transport can be funded in full by means other than collecting fares from passengers. It may be funded by national, regional or local government through taxation. Several mid-size European cities and many smaller towns around the world have converted their bus networks to zero-fare. The city of Hasselt in Belgium is a notable example: fares were abolished in 1997 and ridership was as much as "13 times higher" by 2006.
We submit that zero-fare transport can make the system more accessible and fair for low-income residents. Road traffic can benefit from decreased congestion and faster average road speeds, fewer traffic accidents, easier parking, savings from reduced wear and tear on roads. It will lead to environmental and public health benefits including decreased air pollution and noise pollution from road traffic. If use of personal vehicles/cars is discouraged, zero-fare public transport could mitigate the problems of global warming and oil depletion.
We submit that zero-fare public transport to and from work is a necessary part of the work day, and is essential to the employer in the managing of work hours. It is thus argued that financing of public transportation should fall to employers rather than private citizens. It can be an effort in the redistribution of wealth which is accumulating in fewer and fewer hands.
We submit that the ministry should take lessons from countries and cities which are care free. There are care free places in Austria, Belgium, Denmark, Finland, France, Germany, Greece, Hungary, Italy, The Netherlands, Poland, Portugal, Russia, Serbia, Spain, Sweden, Switzerland, UK and Channel Islands, Canada, Mexico, United States and many other countries.
We submit that Copenhagen, one of the most densely populated cities in Europe, in Denmark has successfully transformed car parks into car-free public squares and car-dominated streets into car free streets, over a 40-year period.
We wish to inform that in Paris, France, the authorities ban cars from the Georges Pompidou Expressway along Paris's Right Bank into the Paris Beach for one month every summer since 2004 and converts it into a pedestrian refuge replete with a sandy beach, activities including dance lessons, climbing walls, games, and swimming, and amenities like beach chairs, cafes, misting fountains, and shady palm trees.
We submit that Village Homes in Davis, California is designed to allow car-free movement with an extensive system of pedestrian/bike paths, running through common areas that exhibit a variety of landscaping, garden areas, play structures, statuary, with most houses facing the common areas rather than the streets. The roads are all narrow, curving cul-de-sacs without sidewalks which give them the feel of village lanes; the few cars that venture into the cul-de-sacs usually travel slowly.
We submit that the efforts made elsewhere to provide space for walking and cycling besides public transport merits emulation.
We suggest that your ministry should come out with a mechanism to ensure that citizens and tourists visiting India can travel every part of India by public transport. The ministry should publish 'How to Travel in India by Public Transport' manual and provide necessary infrastructure for it.
We submit that the fuel conservation drive which you have initiated to save $5 billion in oil imports is likely to usher in a new culture wherein public transport will get the priority it deserves. The oil import bill of about $145 billion and the consequent record current account deficit is indeed a matter of grave concern.
We submit that you should consider writing to all the District Magistrates to initiate steps to declare 'Wednesday' as a public transport day in all the districts of the country. All the ministries of the Government of India and all the State Governments and Union Territories should consider declaring 'Wednesday' as a public transport day.
In view, of the above, we support your appeal to all the central government ministries and state chief ministers "to observe a bus day every week." In this regard it will be germane to seek the support of all the MPs, MLAs and MLCs.
ToxicsWatch Alliance (TWA)
Shri Kamal Nath, Hon'ble Member, Cabinet Committee on Economic Affairs (CCEA)
Shri Sushilkumar Shinde, Hon'ble Member, Cabinet Committee on Economic Affairs (CCEA)
Mrs Jayanthi Natarajan, Hon'ble Member, Cabinet Committee on Economic Affairs (CCEA)
Shri Jairam Ramesh, Hon'ble Member, Cabinet Committee on Economic Affairs (CCEA)
Dr. Farooq Abdullah, Union Minister of New & Renewable Energy
Shri Prakash Karat, General Secretary, Communist Party of India (Marxist)
Shri Suravaram Sudhakar Reddy, General Secretary, Communist Party of India
Shri Sharad Pawar, President, Nationalist Congress Party
Shri Sharad Yadav, President, Janata Dal (United)
Shri Mulyam Singh Yadav, President, Samajwadi Party
Kumari Mayawati, Chairperson, BSP Parliamentary Party
Cabinet Secretary, Government of India
Secretary, Union Ministry of Petroleum & Natural Gas
Chief Minister, Government of Bihar
Chief Minister, Government of Tripura
Chief Minister, Government of Uttar Pradesh
Chief Minister, Government of Tamil Nadu
Chief Minister, Government of Punjab
Chief Minister, Government of Goa
Chief Minister, Government of West Bengal
Chief Minister, Government of Madhya Pradesh
Chief Minister, Government of Odisha
Hon'ble Governor, Government of Jharkhand
Chairman, Parliamentary Standing Committee on Home Affairs
Chairman, Parliamentary Standing Committee on Finance
Chairman, Parliamentary Standing Committee on Personnel, Public Grievances, Law & Justice
Chairman, Public Accounts Committee
Chairman, Parliamentary Standing Committee on Defence
Chairman, Parliamentary Standing Committee on External Affairs
Chairman, Parliamentary Standing Committee on Agriculture
Hon'ble Members of Parliament
Comptroller & Auditor General of India
Lt Governor, Government of National Capital Territory of Delhi
Chief Secretary, Government of Andhra Pradesh
Chief Secretary, Government of Bihar
Chief Secretary, Government of Chhattisgarh
Chief Secretary, Government of Goa
Chief Secretary, Government of Gujarat
Chief Secretary, Government of Haryana,
Chief Secretary, Government of Himachal Pradesh
Chief Secretary, Government of Jammu and Kashmir
Chief Secretary, Government of Jharkhand
Chief Secretary, Government of Karnataka
Chief Secretary, Government of Kerala
Chief Secretary, Government of Madhya Pradesh
Chief Secretary, Government of Maharashtra
Chief Secretary, Government of Orissa
Chief Secretary, Government of Punjab
Chief Secretary, Government of Rajasthan
Chief Secretary, Government of Tamil Nadu
Chief Secretary, Government of Uttar Pradesh
Chief Secretary, Government of Uttarakhand
Chief Secretary, Government of West Bengal
Chief Secretary, Government of Puducherry
Chief Secretary, Government of Arunachal Pradesh
Chief Secretary, Government of Assam
Chief Secretary, Government of Manipur
Chief Secretary, Government of Meghalaya
Chief Secretary, Government of Mizoram
Chief Secretary, Government of Nagaland
Chief Secretary, Government of Sikkim
Chief Secretary, Government of Tripura
Chief Secretary, Government of Andaman and Nicobar (UT)
Administrator, Government of Dadra and Nagar Haveli (UT)
Administrator, Government of Daman and Diu (UT)
Administrator, Government of Lakshadweep (UT)